Rants & Raves: Montana State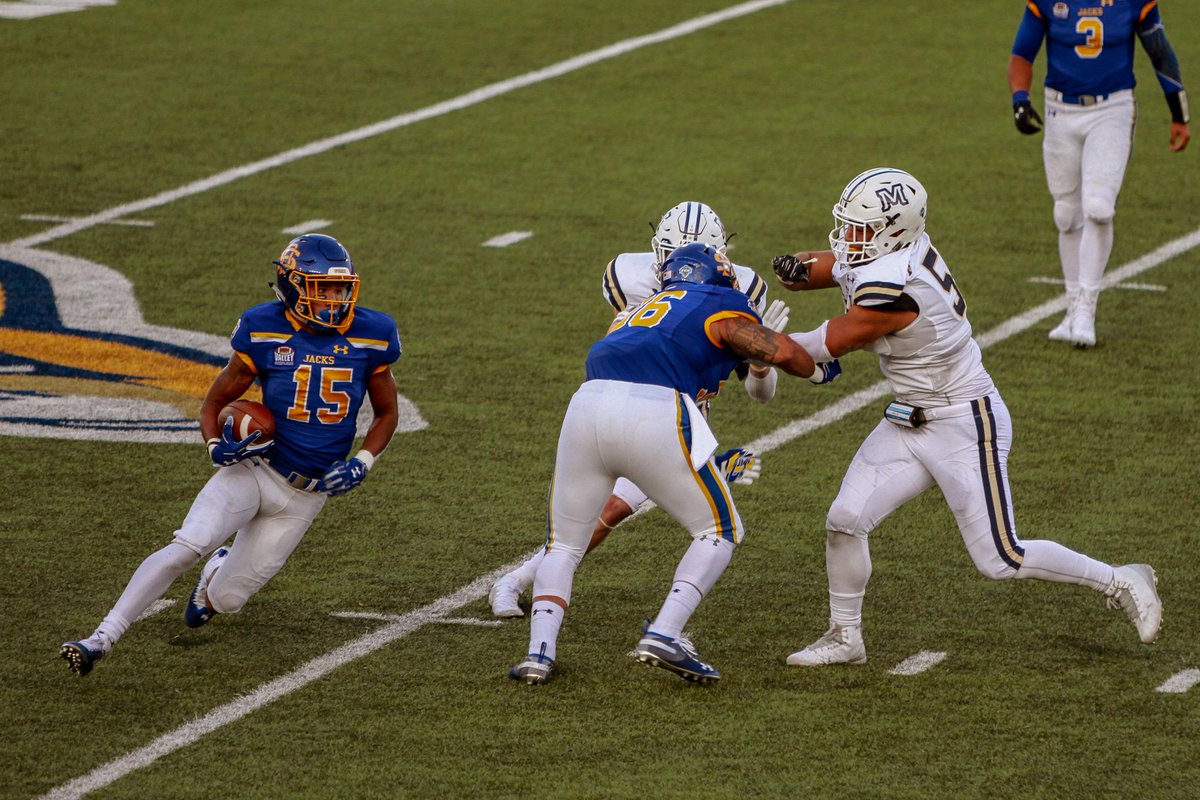 Wow! Wasn't Saturday fun? I forgot how much I missed college football Saturdays! I apologize that I haven't been able to do opponent previews the past two weeks. In a bit of personal news, I am now working at another institution. The first few weeks have been some long hours and a big learning curve. However, I'm hoping that this week the days aren't quite as long and I'll have some time to write in the evenings again.
Rants and Raves
This week's "Rants & Raves" are difficult as the Jacks came out and played a pretty clean game so there will be lots of "raves" and few "rants."
Rave: Obviously, Cade Johnson had a big game (9 rec. 138, 4 TD) but Adam Anderson also came up big with 4 rec for 86 yards. Marquise Lewis made two timely catches and Mikey Daniel caught four passes out of the backfield. The big question entering the season is who is going to step up and make plays on the outside. Saturday may be been a good indicator of what Jackrabbit fans can expect this season. Jacob Brown only had one reception but I know he will have big games and Deyon Campbell was in street clothes on the sidelines and we know that he will make a big impact this year.
Rave: The defense played so well only allowing 193 total yards. They swarmed to the ball and gang tackled really well. Montana State just couldn't get their run game going in the right direction. The defensive line clogged things up and the linebackers and safties were flying through making the tackles. It was beautiful defensive football at every level.
Rant: I thought the offensive line struggled to get going in the first half. There were a few penalties and a few times where the defensive lineman just beat them. However, I thought they came out and played much better in the second half with the opening drive being a true statement drive. Yes, Montana State has a very good defensive line. It is probably comparable to the quality of NDSU or Illinois State, or Youngstown State. In addition to the quality, they run a lot of different fronts and variations off of their base alignment so it probably took some time to adapt to. In the end, they played a really good game but I was certainly concerned through the first portion of the game.
Rave: Taryn had a very good game (21-29, 319 Yds, 4 TD). There were a lot of doubters about him entering this season. Through the first game, Taryn has quieted them. He was accurate, he bought some time in the pocket, and he seemed so in command of the offense at the line of scrimmage. As I said in my position previews, I hope Jackrabbit fans truly take time to appreciate the level that Taryn plays at.
Rant: It is just one person's opinion but I thought the Pride halftime performance was awful. The beauty of a marching band is the formations and sound of horns and drums along with the pageantry. Not a screaming guitar that seemed to just be riffing on his own with no notice to what the rest of the band was doing. Maybe I'm a traditionalist, maybe the Pride is trying to spice things up because of their small numbers, maybe others really enjoyed it but I did not.
Rave: I loved watching the redshirt freshmen and older players who are getting their first taste of true game action come off the field at the beginning of the game. Whether it was special teams, offense or defense the reactions were the same: joy. After sitting out last year, going through spring ball, and then fall camp it was easy to see how happy they were to finally be playing real football against another team. I'm sure it is a really long journey and hopefully Saturday made it worth it.
Rave: The Jackrabbit faithful were really loud in the first half on 3rd downs when the defense was on the field. In the stands it is sometimes hard to tell but along the sideline you could really tell they were into it. Great job!
Rant: Many of those same fans were just as loud when the Jackrabbit offense had the ball. The fourth down attempt and conversation in the first half was a time not to cheer. As Taryn was walking up to the line of scrimmage I turned around to see multiple fans waving their hands in the air, signalling for the rest of the fans to cheer. I love the passion but stop cheering when the Jackrabbits are on offense. Quiet down. Let the offense communicate. Cheer between the plays. That is part of the home field advantage.
Rave: How about that student turnout? Keep coming back students. Jackrabbit football games are a great time to cheer on your university next to your new friends. You only get 24ish home games in your four years at SDSU. Make the most of them!
Game Balls
Offense: Cade Johnson (9rec, 138 yds, and 4 TDs).
Everyone knew that Cade had potential. He made enough big plays last year to warrant some respect. However, he made so many incredibly athletic plays on Saturday that it is hard not to classify it as a "breakout" performance.
Defense: Brandon Snyder (4 total tackles, 1 tackle for loss)
This award could go to so many people that this is a hard decision. I think Brandon deserves it for a couple reasons. He played a terrific game and really made his presence known in the run game and passing game. Part of the reason the defensive culture seems to have shifted is the addition of Snyder. I also think about how much he has overcome to get back to this point. It is hard not to cheer for a guy like him.
Arkansas Pine Bluff is next. I hope to get a preview up sometime later this week.
Go Jacks!
Matt